When Covid-19 updates triggers your fears of safety and death…
When mass panic and chaos worldwide (and close to home) about the #coronavirus intrudes on you every single day…
These are tools in my toolbox as an energy psychology coach and healer who for the past 20 years has helped clients with mental obsessions, relationship trauma and blocks to happiness, health and success.
They are the same tools that have helped me through numerous challenges and serious crises in my own life.
I dug deep to control my own fears, doubts and insecurities at times like:
losing my home and beloved dog in a fire
losing security when my 25-year marriage ended in divorce, leaving me with no money or home
losing my wonderful publicity job as the promoter of Brandon Bays in the UK after 9/11 – and flying to New York to assist in healing workshops in the aftermath of the devastation
I highly recommend you begin with the following 3 self-care tools: HAVENING, EFT Tapping – and the mindful meditative healing concept of FOREST BATHING.
Tip #1 Self-Soothe with Havening
Mothers soothe their infants with stroking and soothing sounds, words, humming, songs.
All mammals do it.
It gives you a HAVEN/SAFE PLACE mentally if you do it too.
Havening was developed by twin brothers Dr. Ron Ruden and Dr. Steven Ruden following their ongoing observations of babies in distress who were able to effectively calm down as a result of their mother's applying warm havening touches.
They call it a PSYCHOSENSORY combining sensory input (touch) intended to eliminate the consequences arising from stressful or traumatic events stored in the brain (without lengthy talk therapy or medication).
In his  'When the Past is Always Present' (2010), Ruden offers The Havening Techniques, methods based on the idea that traumatization occurs because we cannot find a haven during the event.
Using evolutionary biological principles and neuroscientific studies, this book outlines in detail how havening touch de-links the emotional experience from a trauma, essentially making it just an ordinary memory.
Once done, the event no longer causes distress.
Read more at the official Havening site
This website introduces you to an extraordinary application of recently acquired knowledge in the field of neuroscience. The techniques described herein are based in evolutionary biology and offer you the opportunity to live a healthier, hopefully happier and more productive life. To Western eyes, to watch pain instantly disappear, long standing problems resolve and disturbing memories fade into the irretrievable past is nothing short of astonishing.

We call this method Havening. Havening, the transitive verb of the word haven, means to put into a safe place. While some forms of this approach have been around for decades, many mental health professionals remain skeptical given that it involves no medication, talking or prolonged exposure.
Delta Brain Waves increase with Havening
It works by promoting the release of delta brain waves as well as increasing the feel-good hormones of Serotonin and Oxytocin.
When he combined this with distraction techniques via imagery, other chemical reactions ensued which served to melt and dissolve the disturbing material that had previously become frozen in the amygdala.
This is what is called HAVENING used to release PAST TRAUMA, much like EFT-Matrix Reimprinting.
But what if we could use it to soothe current anxiety, panic and fear surrounding events that happen like the current Covid-19 #coronavirus pandemic sweeping through the world today (March 2020)?
SELF-HAVENING IS A VERSION OF SOOTHING YOURSELF INTO A CALMER DELTA STATE THAT ENABLES YOU TO FUNCTION TO YOUR HIGHEST AND BEST.
DO HAVENING AS FOLLOWS
Cross your arms over your chest – right hand on left shoulder, left hand on right shoulder
Stroke both hands down the arm to your elbow in a rhythmic way, repeatedly.
Stroke the palms of the hands back and forth repeatedly – as if you are washing them but mindful of your intention to soothe the nervous system
The final part of this protocol involves touching your face [WHICH IN CURRENT COVOID-19 TIMES IS NOT RECOMMENDED]… but so you are aware, using well-sanatised hands or gloves if you prefer, the stroking of your forehead to under your eyes and down the side of your face completes the SELF-HAVENING process.
AS A SHORTCUT THROUGHOUT YOUR DAY DO THE PALM STROKING – EVERY TIME YOU WASH YOUR HANDS
Here I take you through the combined process of Self-Havening with EFT Tapping and Forest Bathing:
Tip#2 EFT-Tapping
Buy my AMAZON BOOK which contains a whole section explaining my unique Break-Free Fast approach to Emotional Freedom Techniques, EFT Tapping. It offers a section dedicated to the process of Tapping and numerous case studies explaining how it works.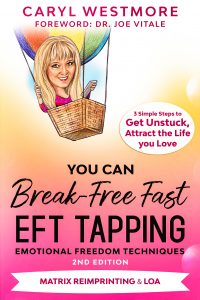 Or read the in-depth description I give on EFT Tapping here: BLOG POST ON EFT-TAPPING  
Tip #3 Forest Bathing – real or imaginary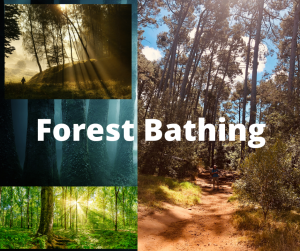 Ground your bare feet on the earth, lawn or sandy beach. Or better still, take your family for a forest walk. Hug a tree.
The "Forest bathing" concept comes from Japan (they call it shinrin-yoku which means bathing or taking in the forest through your senses.)
Even imagining it is a wonderful tonic.
The sounds of the forest, the scent of the trees, the sunlight playing through the leaves, the fresh, clean air — these things give you a sense of comfort and boost body, mind, and soul, easing stress and worry.
Being in nature can restore your good mood, rejuvenate your depleted energy and vitality. Which is what will keep you sane and useful in these times of panic.
So even if the lockdown of Corona Virus prevents you from leaving your home – try Havening as you imagine a forest bathing scene where you are steeped in the beauty of nature.
Or step into your own backyard, without shoes if it's warm enough – and soak up the earth energy as if you were in a forest.
AS A SHORTCUT THROUGHOUT YOUR DAY DO THE PALM STROKING – EVERY TIME YOU WASH YOUR HANDS
Tapping on body energy points with your fingers – after a thorough washing obviously – while saying out loud your anger, anxiety and frustration – followed by "I choose to feel safe, strong, healthy and whole"will help tremendously to settle you and your loved ones
Connecting with nature – like in a forest – or your own garden – will ground and soothe you