See that cute little fellow between his sisters on the cover of this book – available in print from Amazon? That's my husband Nicholas Westmore 70-plus years ago.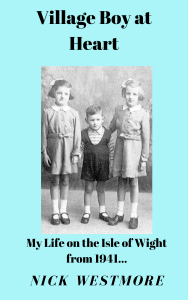 I am so proud that he dedicated a month in 2019 to writing about his early life as a "village boy" -i n his biography of growing up on the Isle of Wight.
I helped him proof, design a cover and get it printed on Amazon, mainly for his children, grand-children and great-grand-child – and my family.
Together Nick and I  are Amazon authors of 6 books – mine are part of my coaching business as a BREAK FREE GOAL SUCCESS author . Single to Soulmate Love Coach/Author is one hat I wear connected with my book Online Dating Success Secrets for Women 40/50+