Oprah magazine re online dating says it is "the best way to find love today!" Adding that
Today an estimated one-third of marrying couples in the U.S. met online..."
So stop feeling bashful or hesitant about exploring your chances for love online.

And for all the "stuck single" women out there, savvy and successful at your career but getting an F for Failure when it comes to love and relationships…my 8-week course may be what it takes for YOU to finally go from Single to Soulmate in the next 3 to 9 months (the average time it takes my client to bring in a consistent stream of quality men – and often Mr. Right.)
This is for you if…
you want the clarity and confidence to win at the game of Love and Online Dating.
Back in the day when I began the journey online dating, I kept it hidden –  a shameful secret.
Well no more!
An article in Oprah Magazine (January 2019) entitled: "The Grown Woman's Guide to Online Dating" assures readers:
"Once upon a time, internet dating was a vaguely embarrassing pursuit. Who wanted to be one of those lonely hearts trolling the singles bars of cyberspace? These days, however, the New York Times Vows section—famous for its meet-cute stories of the blissfully betrothed—is full of couples who trumpet the love they found through Ok Cupid or Tinder.

Today an estimated one-third of marrying couples in the U.S. met online..."
How about You and Me?
I met my husband online and two of my step-daughters met their match on a site in the UK called "Plenty of Fish".
And one day soon I am intending it will be YOUR turn to go from Single to Soulmate Love.
I BELIEVE IT'S POSSIBLE FOR YOU TOO!
And it can be – if you believe Oprah magazine re online dating.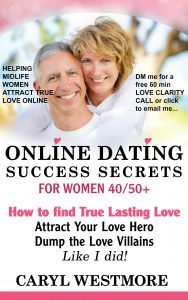 That's why I wrote the book Online Dating Success Secrets – to give fair warning – and encouragement to my fellow soul sisters of 35-50 – that yes, you can find forever love online.
It's also why I offer love coaching with wonderful results for my clients who I celebrate when they eventually meet Mr. Right and – to quote a happy client – fulfill their "lucky destiny".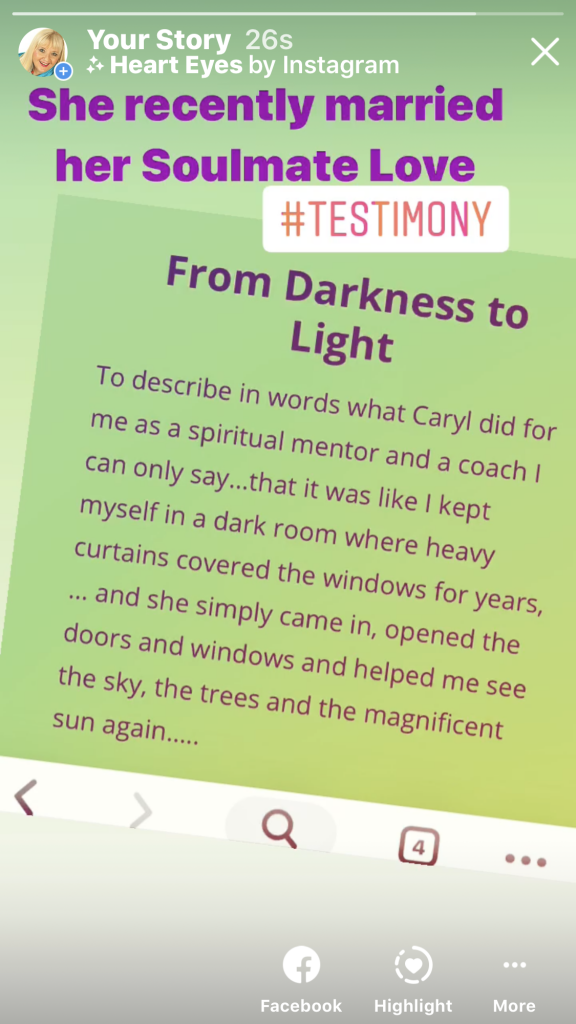 TALK TO ME
About clearing your LOVE KARMA, PAST HEARTBREAK OR LOVE SHIELD keeping love out.
BOOK HERE: ATTRACT SOULMATE LOVE "CLARITY CALL" with me (on Zoom) and we will see if you have a possible heart wall or love shield that needs releasing that is keeping love out (it's more common than you think).