I remember the struggle to date after divorce.
I remember the pain to find and keep a great relationship after my divorce.
I didn't have a clue how to begin dating again.
Despite
being into inspirational teaching and the Law of Attraction since my teens,
going to therapy,
and reading tons of self-help books (throughout my marriage)
…Nothing prepared me for being single at 50.
I felt like a ship-wreck survivor staggering onto an island after 25 years at sea (my marriage) and finding everything about dating had changed dramatically since my 20s – truly a whole new world of struggle to date after divorce.
As I wrote in the Preface to my Amazon/Audible book: Online Dating Success Secrets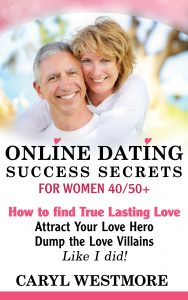 "I was over 50 by the time my marriage of 25 years ended in divorce – leaving me feeling like a shipwreck survivor who had been dumped with no resources on the lonely shore of singledom.
Was I scared? You bet!
Dating again seemed an impossibility as I had no social network and no desire to go to pubs and clubs where groups of my age might gather.
Plus I felt over-the-hill, no longer the happy-go-lucky twenty-five-year-old I had been when I married.
"I kept (the struggle to date after divorce) a dark secret, not wanting to admit I needed to 'pay' to meet men.
I was working from home on my computer mostly (an early online entrepreneur in South Africa).
So when a friend suggested ONLINE DATING…it seems the best way to try dating again. Even though few people I knew talked about it.
THEN UPROSE THE…DRAGONS OF FEAR, LOW SELF ESTEEM, and INSECURITY saying: "Who would want YOU at your age?" shaming me BIG TIME.
I managed to get past those Dragons bit by bit – though often getting scorched or wounded in the process.
I was still settling for people who didn't inspire me.
Or people who needed a mother more than anything.
Or people who were totally unavailable and didn't want to commit.
He Ghosted Me
One man did a kind of "ghosting" which devastated me and added to my struggle to date after divorce!
He never pitched up for a Saturday night movie date after we'd been together for 6 weeks. His phone was off…he disappeared. I was frantic for days thinking he got into an accident or something horrific.
Finally, I remembered Chapter 9 from the hilarious book "He's Just Not That Into you..." by Greg Behrendt & Liz Tuccillo about the man "who disappeared on you".
He's gone. Poof. Vanished into thin air…he's made it clear he's not that into you.

It's so painful it's impossible not to be hurt or angry. "

Tempting to spend a lot of energy solving the Mystery of the Disappearing Man"
BUT THIS WILL NOT HELP YOU IN THE LONG RUN.
Because the only part of that story that's important to remember is that he didn't want to be with you anymore. And he didn't have the guts to tell you to your face.

Case closed.
I had to accept the sudden disappearance and move on to…NEXT!
Postscript to the above Ghosting story
Six months later (I kid you not) he knocked on my door to "apologize" saying he went overseas at the last minute (long story) and it "hadn't worked out with the other woman in question".
Ouch.
Needless to say, I had enough self-esteem to send him packing.
There were many others like him…
I wasn't even getting approached by the caliber of partner I was looking for…
And I was still carrying the dreaded "baggage" from my past contributing to my struggle to date after divorce.
Is Dating After Divorce a NUMBERS GAME

?

People wrongly say that dating is a numbers game.
But dating is actually an energy game.
A game of high vibration attracting high-quality men.
Or the OPPOSITE…past trauma giving you low victim energy that attracts the Love Duds.
HEART-BREAK and LOVE TRAUMA from the past – yours or that of your parents – affecting your energy badly in the game of love.
I can show you what to do about it! Lots of information, advice and sisterhood support here: