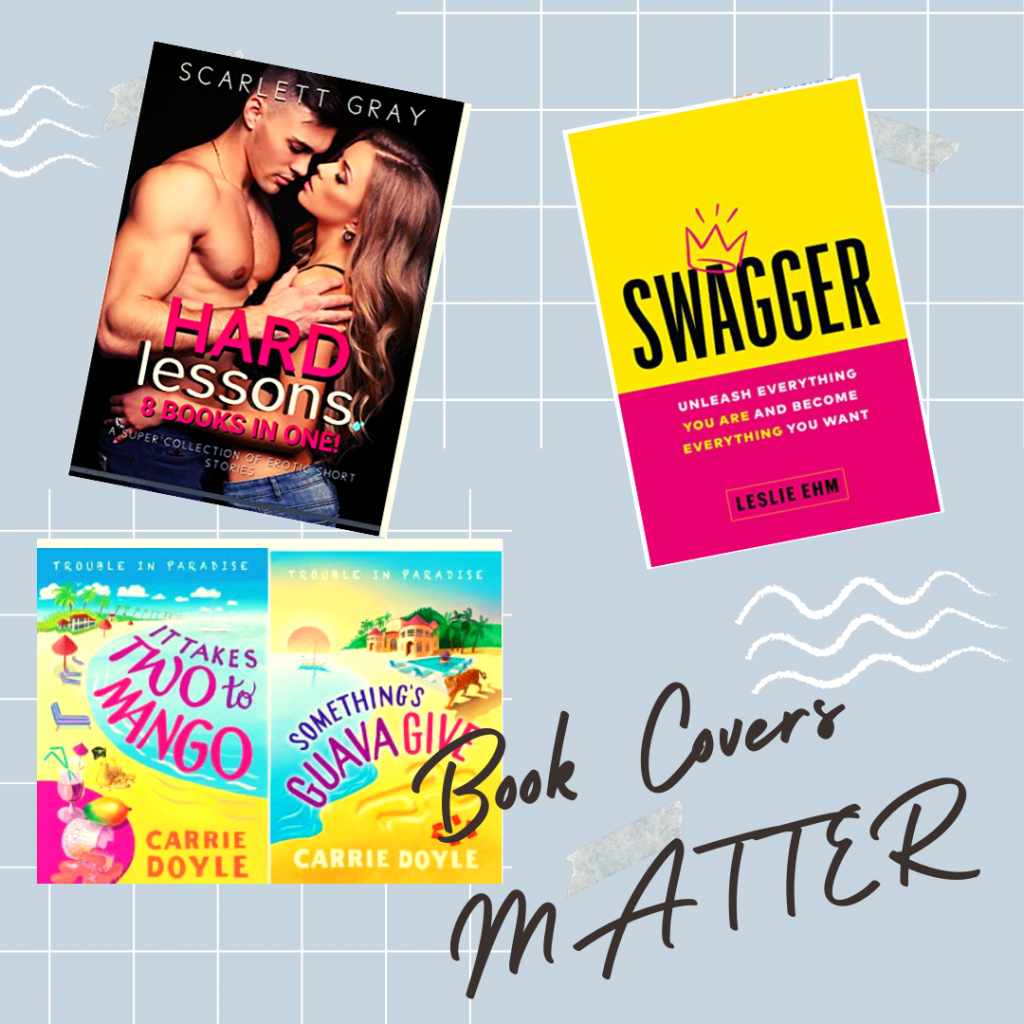 Can you…do you…judge a book by its cover?
Admit it.
You'd be lying if you say a bland boring book cover doesn't put you off.
Authors know all their blood, sweat and creative genius can come to zilch if they have a shoddy or badly designed book cover.
Especially on Amazon where your cover must stand out in a sea of postage-stamp size competitors.
We know that many industries struggled in 2020. But not book sales.
Book sales soared as pandemic lockdowns drove people at home to buy (and listen) to books for themselves and their kids.
Book cover styles depend on whether you're buying fiction or non-fiction.
For instance:
A "steamy erotica" looks very different from a "cosy mystery" as you can see in the picture above.
As a coach or healing expert your question is likely about covers for non-fiction – self-help, teaching memoir.
After years of outsourcing to different cover designers for my books and begging them to make the TITLE pop I've finally found my best cover designer who understands we write books we want to SELL.
His name is Matt of 100Covers.com where you get quality at a great price.
He says: let the title stand out proud, keep images small and unobtrusive and don't use WHITE (oops my fave colour on many of my books).
Great example is this nonfiction cover Swagger.
But before you rush over to order your cover from Matt and his team…hold fire.
Want big savings?
Use the code BIY50 for 50% off the usual price of your cover.
But like Amazon Prime Day – it's brief and sweet. Deadline 48 hours!
---
If you're written, are writing or intend to write your book – I urge you to consider the value and quality you get.
Plus my Bonus
Buy via my affiliate link, send me an email and my bonus is a free Book Hook Title consult with me by email or Zoom.
Many people, myself included, stockpile a few cover deals on the sale at 100Covers for the future because…
You have unlimited time to take up your purchase.  Sweet!
So those on my email list, look out for my email early next week with the title: 100Covers Summer Sale.
Not on my email list?  Sign up here and get a FREE GIFT TO KICK START YOUR BOOK WRITING JOURNEY
I'll also ANNOUNCE IT in our Writing the Book Inside You Group on Facebook.
Join now and come say hello!