The following 6 key "love signs" you're dating Mr. Right can reassure any single woman she's not dating a dud or Love Villain.
In fact, along with physical chemistry, you could say a man with these qualities should tick all your boxes for a long term love relationship and marriage.  
I know because 13 happy years later I'm so glad Nick, my husband, has ALL these qualities – and I've shared below exactly how that works.
Why? Because you deserve to expect the best of a man you intend to spend the rest of your life with.
You will also get insights from my own love story to prove these love signs are solid.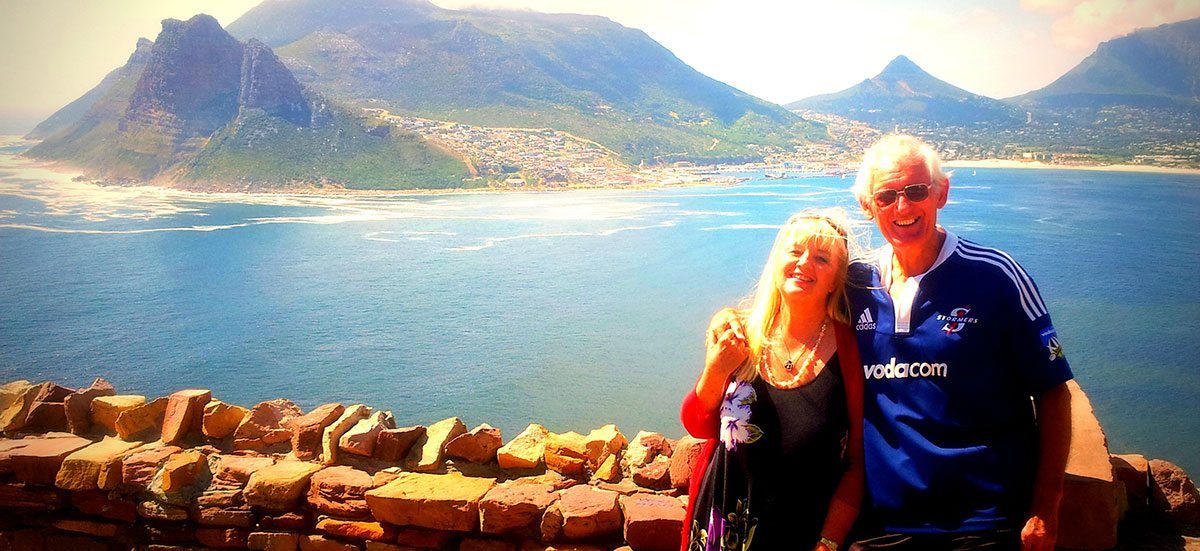 6 Vital Key Love Signs he could be "Mr. Right"
#1: FOCUS DRIVEN. A quality man you could consider as "Mr Right" has got goals in his life and is working towards something. He may not be extremely wealthy but he's got a clear vision of making something of himself in the world.
Even after age 50/60, you want a man who has plans and goals that keep him attractive to you. In my marriage to Nick (who is now in his mid-seventies) I love how he's always active in a number of areas – making our home more comfortable and doing the spreadsheet for our budget (so we can live an eternal summer in 2 homes – one in Cape Town, the other on the Isle of Wight in the UK).
He also loves gardening and grows all our vegetables. Plus he plays tennis and croquet and goes to the gym. As I write this he's hiking up Table Mountain.
The point is – when I met Nick 13 years ago he showed all the signs of a FOCUS DRIVEN go-getter. I soon became certain he was Mr.Right. He was still working as a project manager in the Middle East and had traveled the world as a "couch surfer"  in between assignments; volunteered in his church to assist taking wheelchair folk to Lourdes; and not only donated money to build schools in Bangladesh – but went to visit them to make sure the charity had followed through on its promises.
#2 SHOWS MANNERS. Is he polite and respectful to you – and others (like the waitress in the restaurant)? Make sure he is also KIND – to you, people and animals – this is something he cannot fake for very long. Hopefully, when you meet his in-laws and you notice it in his parents, you can know for sure he grew up that way. This demonstrates clearly he has the vital key signs you're dating Mr. Right.
#3: SENSITIVITY. When it comes to listening to you and giving you space to be your authentic self, a sure key sign of Mr. Right is how sensitive and supportive of you he can be.  They say women often want a sympathetic ear when they have a problem – not necessarily for their man to solve it for them.
#4 INFORMED AND EDUCATED. Does he read, keep up to date with the world and his fields of interest? Now that does not necessarily mean watching the news all day every day. Quite frankly the opposite – there is no need to have your home flooded by the ongoing negativity dished out by the television news. But taking a keen interest in trends and community news in your area is commendable.
In my case, I know that Nick is vitally interested in rugby.  Before we married he said: "Darling there is only one time I may ignore you – that's when I'm watching rugby on the television."   I love his passion because it helps him relate to both my adult kids who, being South African, grew up with rugby in their bones.
We also both love the humor and news satire (often about Donald Trump) of Trevor Noah on The Daily Show – and watch it on YouTube for a good chuckle – before we go on to Netflix.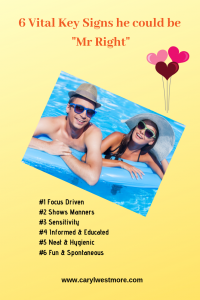 5 NEAT AND HYGIENIC. He doesn't have to be the most stylish person but sloppy is not acceptable. Sloppy shows a lack of commitment and there's nothing sexier and more attractive longterm in a relationship than a man who takes pride in his appearance. Just as you do in yours.
Nick is by nature frugal when it comes to spending money on himself – including buying new clothes when we have a wardrobe of perfectly good items.  However, we recently splurged out on updating his T-shirts after my daughter commented: "How come Nick is always wearing his green Springbok T-Shirt in all your photos?"  That shook us into action.
#6 FUN & SPONTANEOUS. Make sure early on your dating journey he's fun loving and spontaneous. Notice also as a key vital sign he's Mr. Right if he and loves a good laugh. My worst relationship experiences have been with men who were either wet-blankets and depressive, or cynical and sarcastic – mistaking sarcasm for humor.
Nick and I can feel set in our ways sometimes – so we leave the door open for spontaneous trips and visits to the theatre, movies or concerts that we hadn't planned. But one thing we are never short of is daily HUGS and LAUGHTER. Even at silly jokes or a skit during a movie  We look at each other and burst out laughing.  It's a wonderful tonic for love.
So I hope that inspires you when you make a Vision Board or Mental Picture of your Mr. Right
Be sure to include these "6 Key Love Signs" on your Dream Vision Journal.
Plus sending out your order to the "Cosmic Ordering Service" which I talk about in my Amazon book: Online Dating Success Secrets for Women 40/50+
Because if you do I can almost guarantee you a  happy-ever-after ending.