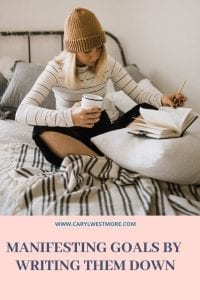 Manifesting goals by writing them down – that's the secret of many goal achievers and a key to making YOUR dreams come true.
It certainly was the secret to me manifesting the soul mate love of my life. Read on to hear how I wrote it down – and made it happen!
In her inspiring book Write it Down, Make it Happen: Knowing what you want and getting it!  author Henriette Anne Klauser says:
Simply writing down your goals in life is the first step toward achieving them. The 'writing it down' part is not about time management; it's not a "to-do today" list that will make you feel guilty if you don't get every single thing done.
Rather, writing it down is about clearing your head, identifying what you want, and setting your intent.
You can 'make it happen' purely by believing in the possibility.
Klauser refers to the concept of manifesting goals by writing them down as follows:
"Writing a description of what you want is a way of saying you believe that it's attainable" 

and…
Good things happen and life is a narrative you have a hand in writing.
Here's an example of that from my own life.
The "Magic Island Love" that Came True
Many years ago – in my mid-30s with young children – I set my heart on becoming a published author by writing a romance novel for Mills and Boon.  I hoped to break into publication as an author via their series of formulaic love stories (often referred to as "bodice rippers").
I was living in South Africa at the time and spent months outlining the chapters and even designing a cover.  The working title?  "Magic Island Love".  It was based on a time I had spent on the island of Ibizia in love with an English poet called Michael.
But despite a vividly beautiful cover emblazoned with the title "Magic Island Love" I could not churn out the words and eventually gave up on it. I decided that my future lay in writing non-fiction books in the self-help category – which after all was my passion and chief interest.
Fast forward to age 50, divorced and longing for love, I eventually met the love of my life and soul mate Nick, on a travel site called www.couchsurfing.com because I had written down one of my goals was to travel in Europe as I had in my twenties when I ended up on Ibizia.
We were married in Cape Town (eight years ago) and moved to the UK to be based in his home on the Isle of Wight.
One day in recounting the story of my "failed romance novel" to a friend – she began to laugh out loud.
"Don't you see, she said, you manifested your "magic island love" after all?
I had invested my imagination, focus and intention on creating the very love story I wrote down and am living today.
In addition, I later used my creative journal to "script" perfect soul mate love scenarios with collages of romantic couples – and writing it down so vividly also helped manifest it, I have no doubt.
How to Write your Way to Healing and Happiness with those you Love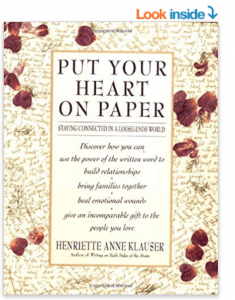 In Put Your Heart On Paper, Henriette Anne Klauser shares the powerful way you can use written notes, letters, and poems to express your love from the heart to partners, children, grandchildren and family members.
One way is to put notes in lunch boxes for your kids – or your in partner's briefcase to surprise him at work.
And no, texting is not the same – or surely second best!
There's something about writing it down in a note has such impact – and often becomes a long-lasting memento of your love for years to come.
Negative Lashback
How to handle the negative inner critic who lashes back with all the obstacles to your dream or goal when you set out to manifest your goals by writing them down?
Klauser calls it "kvetching" – a Yiddish word for complaining.
And she says don't worry – it's therapeutic. "Beyond the whine, something is waiting."
What lies "beyond the whine"?
Ignore the whine because you need to get the "can't – won't – shouldn't" inner critical voice out of your head and onto paper – write down the fears and objections on one side of the page, draw a line and then write a list of affirmations counter-acting the negatives.
The left side naysayers are represented by the voices of parents, teachers, peers who influenced you over the years. Now you have the power to use EFT Tapping on those voices and claim your right to be BREAK FREE.
So "You're not good enough" becomes "I am fearless and focused" and so on.
Question – "But what if I write it down and it DOESN'T HAPPEN?"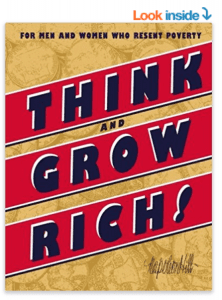 Klauser reminds us of the story in Napoleon Hill's classic:  Think and Grow Rich
A certain Mr. Darby had a gold mine in Colorado during the gold-rush days. It served him well for a short while, and then apparently dried up. He drilled a little further, dug a little deeper, but nothing. So he gave up, and sold the mining tools and the land to a prospector for a few hundred dollars. Within three feet of the place where Darby stopped drilling, the new owner tapped into a gold vein worth millions.

The incident changed Darby's life. He never forgot his mistake in stopping only three feet from the gold. Years later, he said, "That experience was a blessing in disguise. It taught me to keep on keeping on, no matter how hard the going may be, a lesson I needed to learn before I could succeed in anything." Don't stop three feet from the gold.

"One of the most common causes of failure," says Napoleon Hill, "is the habit of quitting when one is overtaken by temporary defeat."
What's the Benefit of the Benefit?
A good way to handle this from the get-go is to not only write down your goal – but the benefit of the benefit you'll gain by achieving it. That way though you may not get a specific goal you may later look back and realize you DID get the benefits – for example to your health and happiness – that you had intended as the ultimate benefit of hoping to manifest your goal by writing it down.
Now it's YOUR turn – I challenge you to take a single – or several goals – and write them down as described in this post – leave a comment here below or go over to my Facebook Page and let's talk about your challenges – and wins…