Unhook from Obsessive Thoughts re Covid-19 with Logosynthesis "Healing Word Power."
Do you want to UNHOOK and break-free from anxious worrying thoughts about Covid-19 or Corona fears?
Especially relevant in these current times – if you continuously watch news updates.
These often leave you feeling isolated, powerless and alone with your worry.
The anxiety-reducing answer can lie with applying Logosynthesis – or healing magic power words.
In this video Caryl Westmore shares how she used it to unhook from obsessive thoughts about a family member who was dangerously ill and plug him into his own Higher Power, thus reconnecting with her own Spiritual Essence.
What is Logosynthesis?
Created by Dr. Willem Lammers Swiss psychotherapist and expert in Transactional Analysis, EDMR and energy psychology techniques, Logosynthesis is a self-healing method that applies the HEALING POWER OF WORDS  and INTENTION to any painful or troubling issues – past or present.
Dr.Lammers found we give away our power and energy to crystallized thought forms that lodge in our aura or energy field.
Dissolve these and you UNHOOK yourself from them and their associated fears and anxiety.
This then enables you to feel more peace and calm and ultimately reconnect with your spiritual Essence.
In his book "Self-Coaching with Logosynthesis – How the Power of Words can Change your Life," Dr. Lammers describes split-off parts of us which felt powerless in the face of childhood events – or current circumstances – creating crystallized energy forms in your body or field.
He says these are not abstract or imaginary but three-dimensional energy structures within your body or outside of it in your personal space.
Healing Power Words
Here are the sentences to apply, taken from Dr. Lammers' Logosynthesis work: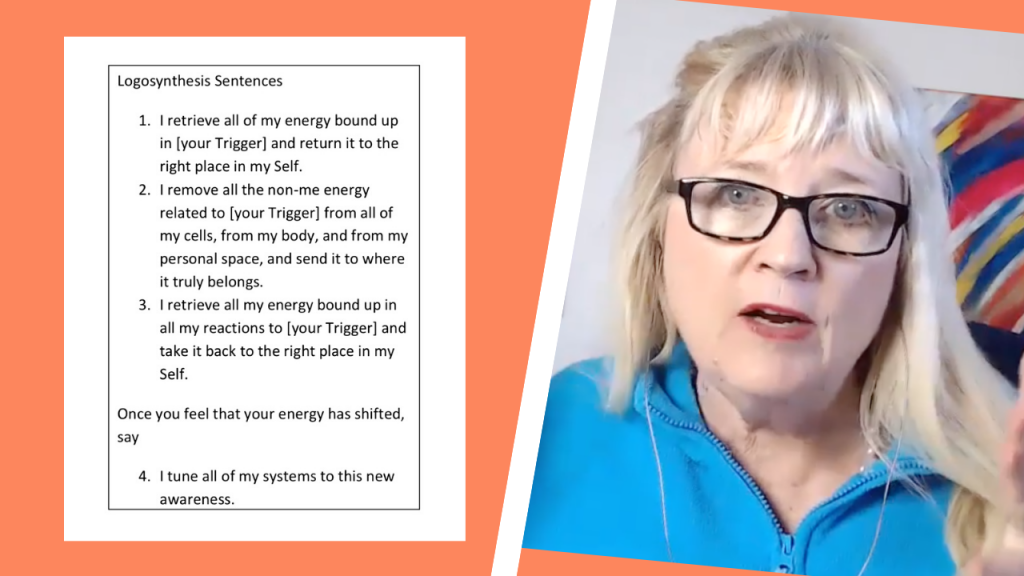 Saying the Logosynthesis "magic word sentences" dissolves debilitating thought form structures and enables your energy flow to reconnect with the flow of your Essence.
You may now understand how to do this for yourself, unhooking your cords from others or the News about Corona Virus and instead, plugging such energy cords into your Higher Power or God-Essence.
Also important to imagine the same healing results for others affected physically, mentally, emotionally or spiritually with highly anxious Corona thoughts.
Conclusion re Healing Power Words: Logosynthesis
When obsessive thoughts about Covid-19 disturb your inner peace/calm apply the
healing word power of Logosynthesis
to break-free or follow the self-care SELF-HAVENING tips HERE:
Havening, EFT Tapping and Forest Bathing.